Selling With Confidence – Getting a Yes Without Being Pushy
YOUR FREE GIFT for attending the Entrepreneur Magazine's 2011 Growth Conference… the "Selling With Confidence: Getting a Yes Without Being Pushy" Package

Are you wondering if this package is right for you and your business?  Let me ask you…
Are you good at what you do but still need more clients?
Do you struggle to find sales language that sounds like you but still gets the sale?
Or, do you dread making sales calls and put off doing the follow up you need to make the sale?
You may find, like many entrepreneurs, that you are good at what you do (creating and delivering your product or service) but lack the sales skills and confidence needed to sell what you do so you can grow your company quickly.
I have worked with thousands of business owners to get the confidence and sales skills that feel natural, instead of pushy. Now,  you can learn how to use these same simple techniques in your own business.
If you want more clients and want to sell more without feeling like a used car salesman, then claim your FREE Gift from Business Optimizer Coach, Stacey Hylen, the "Selling With Confidence: Getting a Yes Without Being Pushy" Package
Here's What Your FREE Gift includes:
1.  Live Selling With Confidence: Getting a Yes Without Being Pushy Training Call on January 27th at 12pm ET
2.  MP3 Download of the call ( so you won't miss it if you can't make the live call)
3.  Selling with Confidence Ebook
Simply put your name and email address and you will receive all of the call in details and downloading instructions.  Make sure you sign up even if you can't make the live call and I will send you the recording and ebook after the live event.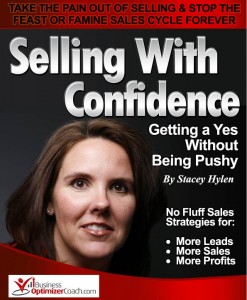 "As my business coach, Stacey helped me figure out who my ideal clients are and how to get more of them! Thanks to her skillful guidance, I now submit fewer proposals and achieve a higher success rate – so my time is spent more productively."
Kathryn Presner, Owner, www.Zoonini.com
Follow Stacey at…

www.BusinessOptimizerCoach.com
866-763-0713
For inquiries, contact us.