The $1000 Glass of Water & the $55 Cup of Tea
By
Stacey Hylen
| Category:
Lead Story
,
Marketing
,
Mindset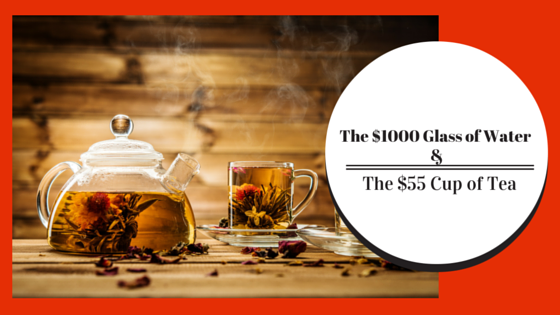 Last week I left my hubby and kids at home and headed to the lake to spend some time by myself to work ON my business, my Hidden Profits event, my new podcast and a new mini product.  I needed some time for the creativity to flow and not have to stop to make lunch, meet the school bus or drive to gymnastics.  Unfortunately, I was not quite as productive as I had planned  :cry: before my hubby showed up with the girls to celebrate Mother's Day weekend together.
I had about two hours under my belt and had just had lunch when it happened… I SPILLED A WHOLE GLASS OF WATER ON MY MACBOOK AIR!!
IT DIED IMMEDIATELY!!!  I tried wiping it up.  Holding it upside down. Inverting on the top of the warm stove (hey I was desperate!!). Then I started googling on my phone, nope, the news wasn't good, all signs pointed to the death of my MacBook Air!
I was distraught especially if you consider I was in a town without even a pharmacy that only has one stoplight and a blinking light.  But after googling I found a computer repair place next to the grocery store.  PHEW!
The kid at the computer store was nice and calm and walked me through my options, which ended up with $1000 spent thanks to my glass of water.  So while I was waiting and praying that he would get all of my data off of my hard drive, I went to the bookstore next door.  The bookstore owner is a very sweet lady, I told her I was waiting for my computer next door and was going to browse and look for a card and told her my story.
This obviously called for a CUP of TEA!  She asked my what kind I wanted and how I took it and brought it to me while I was searching for cards.  I sipped away and then went further into the store to browse the books (anyone who knows me knows this is a danger zone for me but I have not been buying many printed books lately due to my Kindle!).  She asked me what kind of books I liked and handed me a few to look at and went away to let me browse.
Then the law of reciprocity took over! The Law of Reciprocity –when someone does something nice for you, you will have a deep-rooted psychological urge to do something nice in return, you may even reciprocate with a gesture far more generous than their original good deed.
She gave me a free cup of tea that probably cost less than 50 cents, I then felt compelled to buy something; $55 of books and cards.  OOPS!
So how does this apply to your business?  If you have a retail store it is easy to see the correlation but what if you have a service business, online business or sell products B2B?
Here are some ways to incorporate The Law of Reciprocity into your marketing and sales process.
Offer something of value for free: an ebook, a book, a report. Give the GOOD stuff! Giving a watered down version is not going to build your brand.  Some of the companies I have spent thousands of dollars with gave away stuff that was so amazing I knew that I had to invest with them.
Send them useful information. This works especially well with prospects to keep them warm.  Create a follow up process that includes GIVING not just "following up" on the sale.
Take them out to lunch or dinner. Several of my clients have planned group dinners when attending trade shows or association meetings.
Give samples: this could be a free trial, a smaller version of your product or service. A great way to get even more clients with this strategy is to have strategic alliance partners that have your perfect clients give your gifts to their clients.
Have an event: This could be a webinar online that you give tons of value or in person with samples, food or a free presentation.
The Law of Reciprocity is one of six principles of influence in the science of persuasion that can be incorporated into your marketing and sales process to get more clients and increase your sales.  I highly recommend the book, Influence: The Psychology of Persuasion, by Robert B. Cialdini, Ph.D  if you want to delve deeper into the topic.