Optimize Your Year – Part 3 – Put Your Goals in Action
By
Stacey Hylen
| Category:
Lead Story
,
Strategic Planning
After doing the steps in Part 1 & Part 2, you should be ready to put your goals into action for next year.  Here are three strategies for you to use to move forward towards your goals without getting overwhelmed by your huge to-do list.
1.Prioritize your goals. Choose which focus area (sales, marketing, systems, etc.) that is the top priority for you, so you can take action on it first.  You may have more than one area that you consider top priority.  In that case, prioritize the action items for that focus area by what you need to do first.  For example, if your goal is to get more clients, you probably want to focus on both sales and marketing.

2. Put your focus area action items on your calendar.  If you don't set a time for it, it won't happen.  Take each of your action items and make an appointment with yourself, or with your team, to work on that action item.  This will allow you to see realistically how much you can get done.
3. Chunk it down. This is a key step for successful implementation.  If you put a project on your calendar that is too big or not specific enough, you will probably get stuck on the project.  Take the time to break each goal down.  The goal to improve sales scripts can be broken down into several pieces, and then you can choose which area is the most important for you to focus on first.  For example, here is how you could break down improving your sales scripts: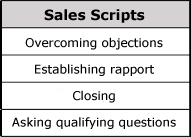 By chunking your tasks down it will help you avoid the procrastination that comes with huge projects and you will have a great sense of accomplishment when you can cross the items off your list which will give you even more encouragement to keep moving forward.
Using these three strategies in your business on a regular basis will help you to stay focused on getting the most important things in your business done, so that you can reach your goals for the year ahead.