If You See a Penny Do You Pick it Up?
By
Stacey Hylen
| Category:
Lead Story
,
Marketing
,
Personal Reflections
,
Sales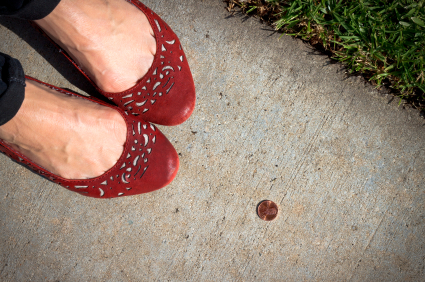 When I was kid seeing a penny was so exciting, I would pick it up, wash it off if it was dirty and put it into my piggy bank. Of course, back then I could actually buy penny candy at the country store. Now the penny candy is 5 cents each. So my kids need to keep their eyes peeled for lots of pennies or start looking for nickels.
Nowadays finding a penny is probably not that exciting for you but what about when you find a twenty dollar bill in your winter coat? The funny thing is that you put the twenty dollars there in the first place but when we find money that we didn't know we had or didn't expect it is fun and we feel very abundant.
I guarantee that there is money that you have in your business that you haven't found yet and you are probably only a few simple steps from putting it into your pocket. You are not the only one, most business owners are so focused on getting new clients that they don't maximize the opportunities they already have.
In my upcoming webinar, Low Hanging Fruit Strategies to Rapidly Increase Sales you will learn 10 simple strategies to find money in your business. These are the same strategies I use with my one on one coaching clients to increase sales and profits quickly and the best thing about it is that almost all of the strategies are FREE to implement.
Click here to find out the details and reserve your spot.
All the best,
Stacey
PS: I only have 100 places total and they are going fast so make sure you reserve your place today.