I paid for this and you give me THAT!
By
Stacey Hylen
| Category:
Marketing
,
Sales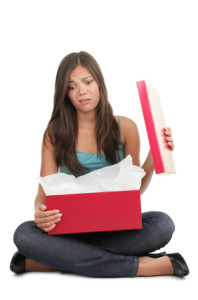 I got a text from my 19 year old step daughter this week asking me to create a workout for her.  This surprised me because she told me last weekend how excited she was that she had joined a gym near the University and was going to meet with one of their trainers to have a program designed for her. When I asked her about it she said she wanted a REAL workout, the one she got only had 4 exercises and the trainer told her that if she wanted a longer one she would have to pay for it. WHAT?!
I have a background in fitness so I can get that there are some people that you might want to start slowly to get them in the habit of coming and doing some exercise, but she is a 19 year old who is in shape and has been training regularly.  Instead of a happy new client they have created a BAD taste in her mouth. A happy client may tell some people but an unhappy client tells even MORE people. Not the sort of word of mouth that you want for your business.
As a business coach and marketer this kills me when I see a business that has lost an opportunity to make a raving fan, get referrals and the mom in me is ticked off that my step daughter didn't get what was advertised.
You may not even know if you have clients who are disappointed since they may just slip away without ever saying anything to you.  Here is what I would suggest to turn ticked off clients into raving fans.
Make sure your FREE Bonuses are worth something.  Don't give a mini version of something unless you advertise it as a mini version. Even better give surprise bonuses!  One of my coaches, Felicia Slattery, always does this. In her class for authors to create their signature speech, any time someone had a question and she had a resource that would help them she added it to the class Facebook group.  This has made me a raving fan and I have even referred colleagues to her for help with their speeches.
Surprise and delight-What would be appropriate for your new customers?  A water bottle? A notebook? Think of something fun that they would like.
Spread the love. Imagine the gym had given out 4 passes to friends after she had her welcome session with the trainer. This would get a bunch of new people into the gym who would probably turn into clients,  plus they would probably stay clients even longer if they are training together.
So what are you going to do to add value and delight your clients or are you already doing it? Share in the comments below!