My Top Five Strategies for Getting New Clients
By
Stacey Hylen
| Category:
Marketing
,
Sales
How do you know what strategies you should focus on to get more clients?  Do more of what WORKS for you.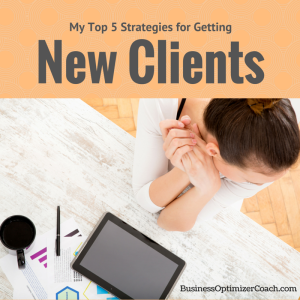 These are the best strategies that I use to get new clients on a consistent basis.
1. Speaking: I love speaking and should do more of it. It is fun and lucrative.  There are three ways I have been able to leverage my speaking engagements:
– Selling from Stage: Frankly, I used to struggle with this, tons of attendees told me how much they loved my content but many times I would leave without any sales, which was very frustrating. I have since learned how to structure my talk in a way that I still get lots of happy feedback from attendees and make sales. I have been able to get up to 48% of the room to invest in my offer.
– Signing up Clients: I don't offer this when I am speaking but I always get people who are interesting in working with me.
– Optins for my Mailing List: I have a sign up sheet for my free Hidden Profits gift that generally gets 80-90% of the room to sign up.
2. Strategic Alliances: I have strategic alliance relationships with several companies that also serve my Perfect Clients. They refer me clients and we split the revenue.
– Who else has your perfect clients? How can you help their clients and their business?
– I started my Strategic Alliance relationships by being introduced by a mutual connection. Who do you know who can introduce you?
3. Webinars: I have been doing self promoted webinars for several years now and have used them to sell my Hidden Profits Program for coaches and business owners and to fill up my one on one coaching spots. I generally do them several times a year for my list and also promote them via Facebook ads and social media.
– What do your Perfect Clients struggle with? Want to learn?
– I survey my list at least once a year to figure out what topics I am going to offer.
– I also repeat webinars that are working to new audiences via Facebook ads.
4. Referrals: Referral clients make the best clients. They are already presold!  They tend to buy higher end packages and stay long term.  I let all of my clients know that I happily accept referrals. I also send a handwritten thank you with a little something for the referral.
– Figure out your peak points for asking for referrals. For example when a client gets a great result, let's you know how happy they are,etc.
– ASK for referrals!
5. Internet: This is a mixed bag. Prospects sometimes have no idea how they found me! They say that they kept seeing me everywhere. But tracking my results I can see that they come from Facebook, Linked In, Twitter and my website… so it looks like my marketing stack is working nicely.  I write with my Perfect Client in mind when I create online content and make sure to mix up the content with lots of adding value  for the reader and  calls to action.
– Figure out who your perfect clients are and where they are going online.
– Write out your perfect clients pains, wants, needs and use that to "speak" to them online.
Some coaching for you to apply to your business:
– Where do you get most of your clients?
– What can you improve on?
– What do you need to do more often?
Start right now, even if it is a baby step, with one thing you can do.