Media Newsroom

I was interviewed for an article in the Montreal Gazette on Taking the Next Step, what companies should do to grow their business. You might be surprised at one piece of advice that I gave that might be contrary to what you think a business coach would say.
Click here to read the full story.
Entrepreneur Growth Conference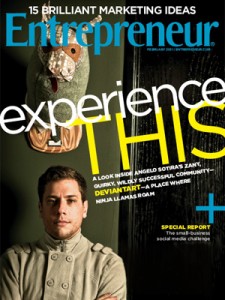 When a former client of mine, Jane Ubell Meyer of www.madisonandmulholland.com, who is the leader in celebrity gift bags ( think Grammy;s and Oscar Giftbags) asked me if I wanted to sponsor the Entrepreneur Magazine Growth Conference it was a definite yes.
Two great things came out of it, with many more to come . One is the Selling with Confidence: Getting a Yes Without Being Pushy teleseminar I put on last week for the Entrepreneur Growth Conference attendees.
The second is that you can go see my smiling face on page 54 of the February issue of Entrepreneur Magazine where the Selling with Confidence Package is featured.