Going to the Next Level
By
Stacey Hylen
| Category:
Mindset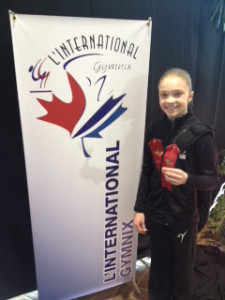 Are you staying in your comfort zone? Safe and comfortable?  It is easy to do.   You set a goal and reach it and want to just hang out there for a while and enjoy it before aiming for the next thing.  If you want to reach your full potential then you need to celebrate and then keep moving towards your next level.
This week my daughter, Alexandra, who just turned 11 made me think about how I might be too comfortable and coasting.  She did her first Pre-Novice National ELITE  gymnastics competition last weekend.  She worked extremely hard last year to get to Pre-Novice National Espoir (Hopeful in English).  In last month's competition, she won several medals at that level but instead of staying in that category and getting a bunch more medals, this year she moved up a level.  Even though I wasn't sure this was the right step for her to move up so quickly, her coach saw that she could do it and Alexandra accepted the challenge.
In her first National Elite competition she got 2 ribbons, 8th place on Balance beam and  8th on vault but had two apparatus that were at the bottom of the standings.  Even though she had two bad results, the confidence she got from doing the higher level moves  and the pride she felt at competing at the higher level was worth it.  When one of the other gym parents asked her if she felt ok at the new higher level she said, "I am at their level for floor, beam and vault but I have a lot of work to do at the bars."
So instead of me teaching her something, this week she taught me!  What areas are you coasting? Too comfortable? Not reaching for the highest level you are capable of?
Share below in what areas you are ready to go for the next level!!!