Why I Love New Year (And You Should, Too!)
By
Stacey Hylen
| Category:
Mindset
,
Personal Reflections
,
Strategic Planning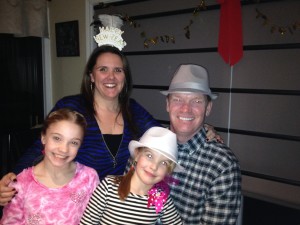 Ok I have a confession to make, last year we went to bed before the ball dropped!  Usually we celebrate quietly at home with the girls and have some fondue, this year we actually went to a real party with the girls and they had their first midnight kiss to start the year!  Although I am not a big fan of the crazy parties I LOVE the new year and what it can do for your business.
It's a great time to revisit goals.  Instead of resolutions which most people fail at before January ends. Use the new year to look at what worked or didn't work last year and set your goals for the year ahead.
You can raise your rates.  Have you raised your prices lately?  I just walked a client through doing this.  We created a letter describing all of the value added things he does for his clients and new things coming this year and announced a small rate increase which made sense.  It was a small amount to his clients but will increase his profits significantly.
 It gives you a good reason to reconnect with past clients and prospects.  Call your past clients and prospects and wish them a Happy New Year (it isn't too late, Chinese New Year is this week!) and ask them how last year went for them, what went well, what they want to improve and what their goals are for the year. You may uncover a gap that you may be able to help them with.
Start off strong and build momentum.  Focus in on your most important projects and take massive action. Getting some momentum going early in the year will make a huge difference.
You get a blank slate.  Don't you love getting a new calendar or planner?  It feels so fresh and full of possibility.   Yes I know it is old school but I use my google calendar for my schedule and appointments and my paper planner for planning out my year.  Start with putting in all of the time off you want to take this year.  I always put in all of my kids days off and create my schedule around that.  I usually take off 8-10 weeks a year.  I can do this because I plan it out and create focus time and free time which allows me to be very productive.
It's time for a new marketing and launch calendar!  I design this with my clients and it is a tool to keep you on track all year.  What are you going to launch? Promote? How are you going to fill up your sales funnel?  You need to have your marketing stacked with different ways of reaching your ideal clients. Pick at least 3 things you will add to your calendar this year: Facebook ads, direct mail, Perfect Client campaign, strategic alliances, live event, blogging…. the possibilities are endless. Take what worked last year and add to it with something new and test it out.
You can design your year the way you want it to feel!  I am a big believer in creating a business and having a life you LOVE but you have to be intentional in setting it up the way you want to FEEL!  When you first start your business you may find yourself taking any client you can get but it is important to focus on how you want to feel. Do you LOVE working with your clients? I do. When you feel good, you are more productive, you do your best work and your clients get your best. If you want a great book on this I highly suggest, The Desire Map by Danielle Laporte.

This year can be a pivotal year for you and your business. Decide what you want and take action.  Share with me below what your big plans are for this year!