Are you TOO Tough on Yourself?
By
Stacey Hylen
| Category:
Mindset
,
Personal Reflections
Who is the toughest person you have to deal with? Yourself or as I like to say " Me, myself and I". Entrepreneurs have to keep moving forward, failing forward and getting up as soon as possible if they want to be successful but sometimes the harsh self talk and self judgement keeps you from moving forward as fast as you could.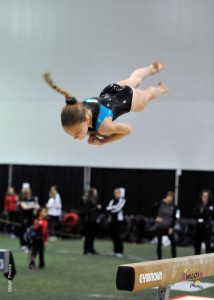 It is always easier to see this in other people when they are being too tough on themselves . Last weekend my daughter competed at the Quebec Championships in the highest division possible for her age, so we bought pictures taken by a professional photographer to get some action shots as a souvenir. We weren't even home yet when grandma was begging for the pics and videos to be put up on Facebook. When we got home, I sat on the sofa with my daughter and as I was uploading the pics to Facebook, she said " not that one, my legs aren't together enough" she was worried that people (especially her coach) wouldn't think it was perfect. I couldn't believe that she would say that and told her don't worry it is only you and other gymnasts who will know, the rest will just be impressed with this crazy, scary dismount (well now you know too, shh don't tell).
When she went to gym the first day back, I showed the coach the pics and she went through them one by one, telling her good, this one could be better,etc, but on the photo she was worried about? She said it was VERY good, one of her best dismounts and very high! So all of that worry energy for NOTHING!
After seeing this in my daughter it made it even easier to laugh at myself and how tough I was on myself last week before my Attracting Your Perfect Clients Marketing Lab. My regular graphic artist was away on vacation and I outsourced the layout of my workbook to someone new. I was very excited about the new workbook and took it to be printed and bound. When I got it back I was surprised to see it in GINORMOUS font since it looked normal when I approved it. I spent the night before my workshop beating myself up, telling myself how stupid it looked and how I was going to be humiliated at my workshop. I literally felt sick to my stomach over it. I finally decided if I was going to sleep I needed to shift my energy and told myself it isn't the font, it is the content and the transformation and growth of their business that the participants were paying for.
The next day in the Marketing Lab I made a joke about my large print workbooks and we had several laughs about it throughout the day. One of the participants even mentioned it in her facebook status update, "Feeling So inspired after taking 's Attracting Your Perfect Clients workshop last week! Tons of insights I can't wait to put into practice to transform my business. From the minute we walked in with the Starbucks card, to the easy to read workbook (Lol) every one of our needs was met. Easy to see why you're top in your field. How awesome for us that you live close by." – Sue-Anne Hickey
During the marketing lab, when one of the participants was being tough on herself, I shared with her what I always share with my coaching clients about how to model the world's richest man, when I see them falling into this trap (and that I obviously needed to remind myself).
Bill Gates is the world's richest self made man, yet every few years he releases a new product to millions of people that despite him having more money, more resources and more talent working for him than any of us can afford, still has tons of bugs and needs to have patches and updates to fix it.
One day I upon hearing about the latest challenges with the latest Windows launch and it struck me, if he is the richest man in the world and he still releases a product with some glitches, then why were the rest of us entrepreneurs still trying to be perfect without his vast resources? I decided I would try to learn and model his approach of iterations, Windows 3.0, 3.1…
Yep, no perfect workbook, no perfect launch, heck this article isn't perfect, but it isn't going to serve anyone sitting on my computer so I am sending it off into the world. Share with us in the comments > What do you need to stop being so tough on yourself about and release into the world?