"Selling With Confidence: Getting a Yes Without Being Pushy" System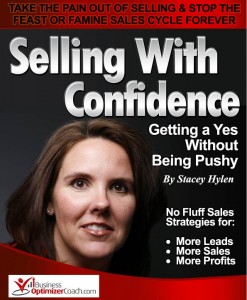 Who else wants to sell MORE WITHOUT feeling PUSHY?
Are you a Business Owner?
Let me ask you a few questions…
Are you good at what you do but  still need more clients?
Do you struggle to find sales  language that sounds like you but  still gets the sale?
Do you dread making sales calls
Do you stop short of asking for the  sale?
Or, do you put off doing the follow  up you need to make the sale?
If you answer yes to any of those questions , you are not alone.  You may find, like many entrepreneurs, that you are good at what you do (creating and delivering your product or service) but lack the sales skills and confidence needed to sell what you do so you can grow your company quickly.
I have worked with thousands of business owners to get the confidence and sales skills that feel natural, instead of pushy. Now, you can learn how to use these same simple techniques in your own business.
For the first time I am making these techniques that my private coaching clients paid thousands of dollars to learn available for you to learn in a simple home study program.
In this program you will learn:
What mistakes you are making that are keeping you struggling to get all of the clients you need
How to Identify and FIND more of your Perfect Clients ( the 20% who account for 80% of your sales!)
What to put into your sales presentation to get your prospect to say YES!
Steps to get your clients to value you and your services more and pay more
How to get rid of your FEAR or NEGATIVE thinking about selling
Here's what is included:
1. MP3 of the Live Selling with Confidence: Getting a Yes Without Being Pushy Class. You can play this on your computer,MP3 player or ipod.
2. Complete word for word Transcript of the class. So you can highlight it,  mark it up and take notes.
3. Selling with Confidence: Getting a Yes Without Being Pushy Workbook. 36 pages of exercises walking you step by step though the Selling with Confidence System to help you implement the material in your own business.
This course is designed for the business owner who is fed up with mediocre results and the constant struggle to get clients and is ready to take action to get more clients more easily.
If you want more clients and feel confident selling your products or services, take action NOW! Simply click on the button below and you will be able to immediately download the program and get started today.
"Selling With Confidence: Getting a Yes Without Being Pushy" Package $197 value for only $97

And because I know how well this system works and the results you will get I will take all of the risk.   If you are not absolutely satisfied that this system has helped you increase your confidence selling and increased your sales, you can request a FULL refund for  this product any time in the next year and I will personally refund your money, no questions asked, no hard feelings.
So there is no risk to you to invest in this system. The only risk is for you to do nothing and stay struggling to get clients like you are now.
Don't sit back and wait for things to get better, take action to MAKE things happen in your business.  Get started today

"As my business coach, Stacey helped me figure out who my ideal clients are and how to get more of them! Thanks to her skillful guidance, I now submit fewer proposals and achieve a higher success rate – so my time is spent more productively."
Kathryn Presner, Owner, www.Zoonini.com
Follow Stacey at…

www.BusinessOptimizerCoach.com
866-763-0713
For inquiries, contact us.